September 12, 2023 05:54 pm | Updated September 13, 2023 08:30 am IST – New Delhi
India's retail inflation eased slightly to 6.83% in August, from the 15-month high of 7.44% in July, but the rise in food prices remained elevated at around 10% and rural consumers continued to face over 7% inflation.
The year-on-year rise in vegetable prices, which had soared 37.4% in July led by pricier tomatoes, eased a little, but was still high at 26.1% last month. Inflation in cereals moderated marginally from around 13% in July to 11.85% in August but pulses prices maintained their pace, rising 13% again, amid concerns about lower Kharif sowing stoking them further in coming months.
While a 5.8% sequential drop in vegetable prices from July, contributed almost half the decline in August's Consumer Price Index (CPI), a slight dip in the inflation rate for clothing, footwear, housing and miscellaneous items helped too.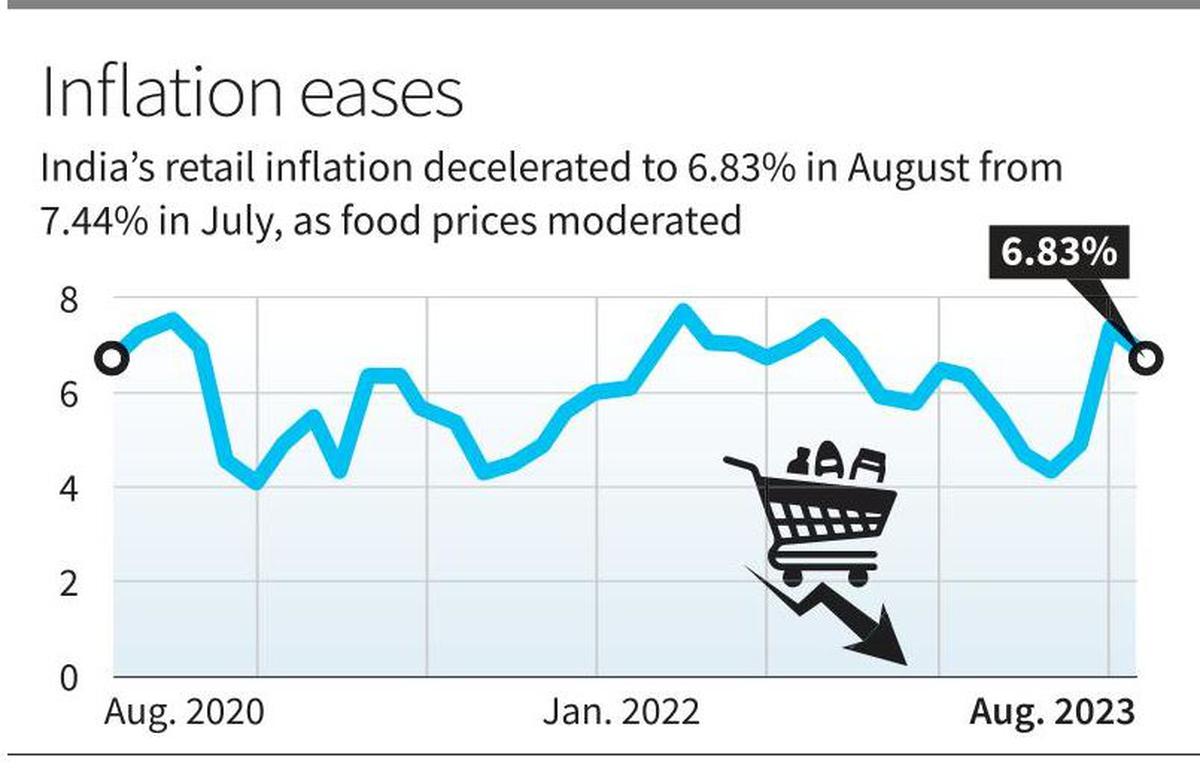 However, with seven of the 12 food segments in index seeing accelerated inflation, the outlook for food inflation remains on edge, cautioned Aditi Nayar, chief economist at ICRA.
Economists believe that the Reserve Bank of India may ignore the transient two-month streak of inflation breaching its upper tolerance threshold of 6% but persistently high food prices could infect other components of the consumption basket.
"Food inflation will remain a key monitorable for them because, if sustained, it can spill over to other components and steer the headline CPI inflation above the RBI's target. And this can constrain monetary policy as central banks do respond to inflation when it starts becoming generalised," noted Crisil chief economist Dharmakirti Joshi.
The pace of price rise for milk remained high at around 7.7% in August, while the inflation in Spices accelerated to 23.2% from 21.6% in July. Eggs became 4.3% pricier in August, compared to 3.8% in July, while meat and fish inflation touched 3.7% from 2.2% in the previous month.
Fruits inflation also gathered pace to 4.05%, while the deflation in edible oils and fats, the only item in the food basket to record a drop in prices in August, eased slightly from -16.8% to -15.3%.
As many as 12 States recorded higher inflation than the national average of 6.83%, with Rajasthan seeing the steepest price rise of 8.6%. Delhi, on the other hand, clocked the lowest inflation of 3% in August, possibly aided by the subsidised supply of tomatoes to people, reckoned Madan Sabnavis, Bank of Baroda's chief economist.
"The recent measure to lower LPG cylinder prices will have a 0.2%-0.25% impact on inflation in September, taking it close to or even lower than the 6% mark, but this will not be very comforting yet for monetary policy makers," he said.